Event location
Kegel Harley-Davidson®
7125 Harrison Avenue
Rockford
IL 61112
April 28, 2020 6:00pm - 9:00pm
*ATTENTION*
Due to the extension of the "shelter-in-place" order, Kegel Harley-Davidson is unable to host this event in its original form. If you RSVP'd for this event, we have either spoke with you or left you message regarding its redesign. We apologize for any inconvenience and thank you for your understanding.  
That being said, even in the presence of COVID-19, we at Kegel Harley-Davidson believe that it is our duty to spread the love of motorcycling. We are currently working on creating our first ever Facebook Live Garage Party. Please stay tuned for further details.
What is a Garage Party?
Ever dreamed of learning to ride? This is where the road begins!
It's a fun evening of informal, yet educational information geared toward women who have never driven a motorcycle and new lady riders who wish to know some basic facts about motorcycles. This event will also allow you to understand the fun of riding and how to enter this sport with ease & confidence & gain new friendships, too. It is a seminar with 4 interactive sessions you will rotate through during the evening. Our team of experts will be on hand to answer any questions you may have.


Follow online: https://www.facebook.com/KegelHD/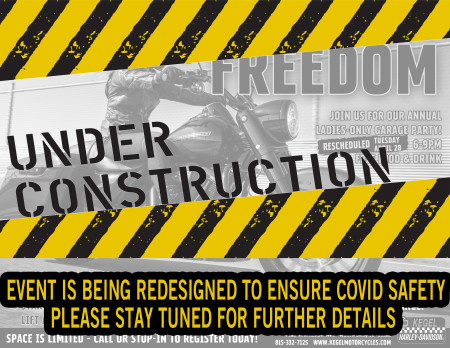 Back to previous page