Toys For Tots - Elf Yourself Bike Run
Event location
Kegel Harley-Davidson®
7125 Harrison Avenue, Rockford, IL 61112
October 10, 2020 10:00am - 3:00pm
UPDATE!
Due to current Covid restrictions, we will be cancelling the Department Chili Cook off portion of this event. 
The ride is still on & The Kegel Family will still be serving Brats and upon your return.
We look forward to hosting a Department Chili Cook Off in the future. Stay tuned for a future updates.
---
Ride out to Kegel Harley-Davidson®  on Saturday, October 10th and help us kick off our Toys for Tots Toy Drive.
Bring out a new, unwrapped toy or a $10 donation to help bring the spirit of Christmas to less fortunate children in our area.
Registration begins at 10 AM the dealership
Young At Heat Pageant Princesses and Queens will be assisting with Registration.
Kick Stands Up at 11 AM following a vocal rendition of the national anthem.
The Widows Sons Kinsman Redeemers will be leading the run.
Ride to: Porky's
1315 E River Rd, Dixon, IL 61021
Estimated arrival time to Porky's is 1 PM.
The ride will return to at Kegel Harley-Davidson at 2:00 PM
Once you return, The Kegels will be serving up beer and onion flavor brats.
Lunch is free, but tips are appreciated. All tips will go to Toys for Tots.
Beer will be available for purchase. Proceeds from beverage purchases will be donated to Toys for Tots as well.
The mission of the Marine Toys for Tots Foundation is to assist the U. S. Marine Corps in providing a tangible sign of hope to economically disadvantaged children at Christmas.
To learn more about their organization, visit:
To learn more about Illinois Widow Sons Kinsman Redeemers, visit: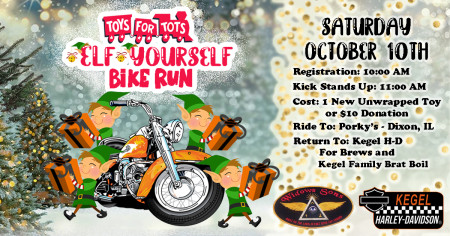 Back to previous page