Event location
Kegel Harley-Davidson®
7125 Harrison Avenue, Rockford, IL 61112
November 21, 2020 11:00am - 2:00pm
We will not be able to host our annual Champagne Party, but this year we are giving you even more time sip & shop, brew & browse and save big.
Start your Christmas shopping early with beer in one hand and snacks in the other.
The Holiday Season is a busy time, but that shouldn't scratch having a cold one and a snack attack off your list.
While you enjoy your brew and snacks, shop and save 15% Off officially licensed merchandise.
For every $100 you spend, your name will be entered for a chance to win a Kegel Harley-Davidson pint glass.
One name will be drawn every hour.
Please ensure that your current address is on file. If you are one of the lucky winners, we will ship your prize to you free of charge the first week of December.
Thank you for supporting your local, family owned Harley-Davidson dealership. We appreciate your patronage, and we look forward to serving you for years to come.
Happy Holidays to you and yours from the Kegel Harley-Davidson Family.
***Some restrictions may apply to the sale. Food and beverages available while supplies last. Must be 21+ to consume alcohol. Please drink responsibly. ***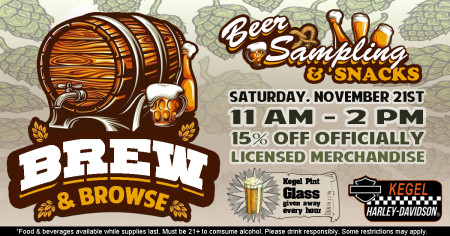 Back to previous page