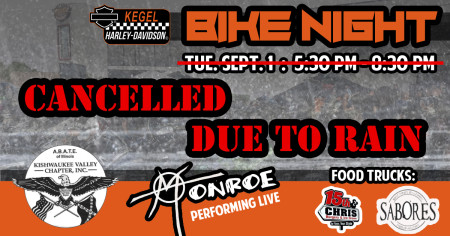 It is sad to say, but mother nature did not think it was a good day for a party at Kegel H-D.
We will be cancelling ABATE of Illinois - Kishwaukee Valley Chapter, Inc's Bike Night this year. Due to scheduling conflicts we were unable to select an alternative date for the festivities. However, we look forward to hosting an unforgettable Bike Night for the chapter in 2021.
We look forward to rescheduling Monroe to rock out our back lot at a later date and wish them the best of luck as they continue to promote their new album "Rose for the Wicked."
Listen to "Rose for the Wicked" on YouTube
15th and Chris and Sabore's Mobile Kitchen will be back to serve up good eats in the near future. We can't wait for our next opportunity to mow down a gourmet and gobble up some loaded tots.
Thank you to everyone involved in the planning and coordinating of this event. Much appreciation to those of you who expressed interest in attending. We hope to see you soon.