Last Update: 1/20/2021 : 2:20 PM - Bookmark this page and revisit for updates
---
Kegel Harley-Davidson received our first shipment of 2021 models on the morning of Wednesday, January 6th. Originally we suspected that we would not be receiving any new motorcycles until after the Harley-Davidson Model Year 2021 Virtual Launch. That being said, we started feeling pretty antsy when other dealers started sharing photos of the new rides on Tuesday morning. Later that afternoon, we were informed that our truck would be arriving the next day.
There was a lot of anticipation building up Wednesday morning as we waited to be called back to the service department. And then, it happened...
As the bike came off the truck, we noticed signs saying "Do not ship until 1/11/2021." It was only the sixth! The whole experience was similar to getting to open Christmas presents early. We were all ecstatic. As each white sheet was peeled back, another 2021 model became part of the Kegel family, a home away from home for a future, or fellow rider.
Throughout the day, even during the unloading video, customers stopped in to take a look at the new bikes. Wheels still needed to be washed and windshields still need to be attached, but regardless, our local Harley enthusiasts wanted to see them as soon as possible.
This morning, Thursday, January 7th, our first 2021 rolled on the the Showroom Floor...



And there it is, officially ready to take home, a 2021 Road Glide in Gauntlet Grey. This metallic is the most exciting color this year. It pairs beautifully with chrome. This particular bike come equipped with all the standard equipment and navigation. Pictures don't do it justice, so make sure to stop in and get a closer look.
While we were all busy getting a hands on look at the new Road Glide...
Our service department snuck another 2021 on to the floor. So, we don't have a roll out video for this beauty, but it is such a show stopper it probably doesn't need one!
This Billiard Red and Vivid Black Limited comes Standard with RDRS.
Kegel Harley-Davidson still has bike that are being prepped for the showroom floor, and we are looking forward to our next January shipment. We still haven't received a Street Glide Special, and we have yet to find any other dealerships that have. We are speculating that Harley-Davidson Model Year 2021 Virtual Launch may have some big new regarding the FLHXS. We'll just have to wait and see.
---
1/8/2021 : 11:20 AM UPDATE
---
This morning, we had another 2021 model join our Showroom fleet.
This 2021 Midnight Crimson and Stone Washed Pearl Road King comes equipped with ABS. It is both flash and classy. Come in for at look. It will have you hooked! After taking in this color combo in a well lit area, we are looking forward to seeing it on thee 2021 Softail Heritage.
---
1/8/2021 : 1:00 PM UPDATE
---
The Kegel H-D service department is on a roll today. Our 2021 Softail Slim made it to the floor.
Painted River Rock and Black Denim and sporting that ABS, our Softail Slim is ready to join you on your next journey. Cruise on in and get up close and personal with this new ride sportin' its old school look.
---
1/9/2021 : 12:15 PM UPDATE
---
Five of our six 2021s are on the floor and ready for visitors. The last one to arrive to the party was an Iron 883.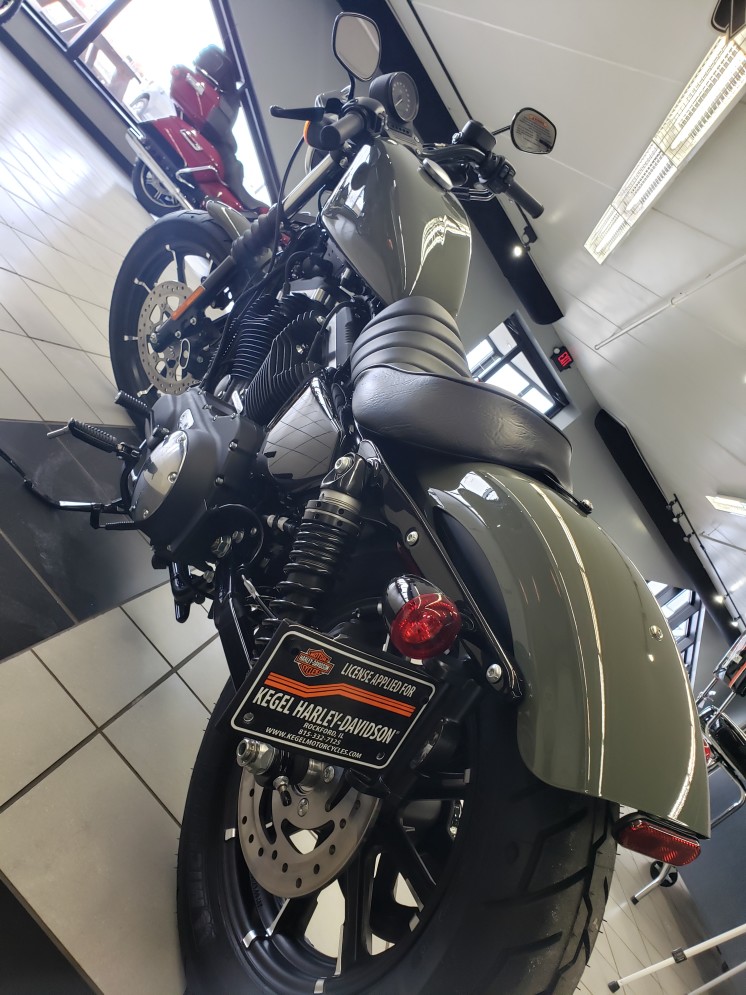 This Iron 883 is rockin' Deadwood Green, giving it a military aesthetic. It comes standard with security. We are looking forward to getting more information on 2021 parts and accessories during the Harley-Davidson Model Year 2021 Virtual Launch on January 19th. The right saddle bags could really take this ride to the next level.
---
1/20/2021 : 2:20 PM UPDATE
---
On Wednesday, January 20, Kegel H-D received their second shipment of 2021 Models. This time, our truck contained two Tri Glides, one Street Bob, and a Road Glide. To get a closer look at our fresh inventory, watch our Facebook Live Video. During the video, we take a peek at the motorcycles before the Service Department gets their hand on them. No windshields, protective clings, and bagged fairings.