Hogs & Dogs - Served by Rockford Rides
Event location
Kegel Harley-Davidson®
7125 Harrison Avenue, Rockford, IL 61112
September 26, 2020 11:30am - 1:30pm
Ride out to Kegel Harley-Davidson for FREE Hot Dogs & Chips.
Food and beverages purchased by Kegel Harley-Davidson and Served Rockford Rides.
Tip well. Proceeds will go to Miss Carly's to empower those in need, one meal at a time.
Rockford Rides is a transportation service providing a prompt and professional traveling experience. Whether it be personal or professional, they've got you covered.
To learn more, visit:
Miss Carly's is a nonprofit charity organization.
They open their home to those in need in order to connect with people personally and build relationships.
No forms. No alienation.
They serve those who have fallen between the cracks and burned all of their bridges.
And provide hot meals and unconditional love with a side of sass.
To learn more, visit: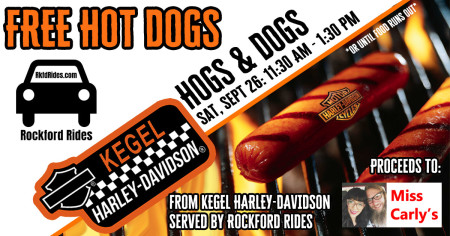 Back to previous page