Welcome to Kegel Harley-Davidson® Service. Our factory-trained technicians and outstanding service staff are here to keep you and your Harley® where you belong - on the road. From scheduled maintenance to custom upgrades, we have the factory-approved parts, tools, and diagnostic equipment to keep your motorcycle tuned to exacting Harley-Davidson® standards.
The credibility of our Service Department is absolutely astounding. Specializing in stock and high performance Harley-Davidson®, we are equipped to make your motorcycle suitable for you and your taste. We have top factory-trained technicians on duty during all business hours.
We honor all warranty work and favor any recalls. We accommodate any type of problem that may arise with your motorcycle in an efficient, precise, and timely manner.
Performance isn't just a standard - it's a state of mind, especially when it comes to Harley®. Our Harley-Davidson® Certified Technicians are the Zen Masters of Performance. In fact, they can take your bike, whether it's a big Twin or a Sportster®, from stock to as high as a 10 percent gain in horsepower with just a few minor adjustments. Wanna upgrade your Harley® motorcycle? Stop by our Service Department and we'll get you all fixed up!
Check tire pressure
Check rear drive belt and primary chain
Lubricate controls and fittings
Service air cleaner
Adjust clutch cable and assembly pushrod
Replace spark plugs
Check brake pads and fluid
Aim headlights
Change primary fluid
Change transmission fluid
Check charging system
Road test
... and more!
We offer immediate access to your factory warranty history, safety campaigns, engine management system upgrades, and technical information. Plus, you'll get up-front estimates and the peace of mind knowing that your bike is serviced by the people who know it best. Click HERE to see everything that we do during a 1,000 mile maintenance on a 2019 Touring model.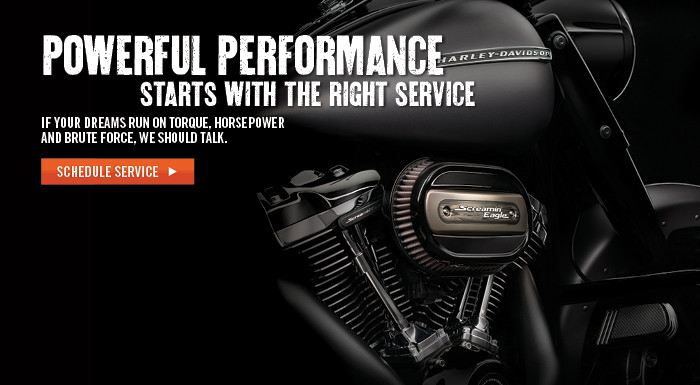 WINTER STORAGE
We offer winter storage in our secured, temperature controlled storage area. Let us baby your baby this winter and free up some space in your garage. Speak with any of our staff to find out more about winter storage, or how you can qualify for FREE winter storage. You can also click HERE for details on our Winter Storage Program.
DYNO SERVICE
Our Dyno Machine measures and analyzes torque output to calculate horsepower and supply other insights to the Dyno operator. We use that information to tune your bike so you get optimum horsepower and maximum enjoyment.
OUR SERVICE DESK STAFF
Our Service Manager, Service Writers, and Service Foreman are here to help you find out what your bike needs. They are also the men who communicate your servicing wants and needs to the technicians to ensure a smooth process. They have been factory-trained on the latest information so they can keep you up to date.
OUR TECHNICIANS
Collectively, our technicians have over 100 years of experience working on Harley-Davidson® motorcycles. They receive regular training straight from the factory, use cutting-edge diagnostic equipment, and service techniques developed by The Motor Company for exclusive use at H-D® dealerships.
OUR DETAILERS
Our detailers are the final people to carefully inspect your bike and make sure it is looking its best before being delivered to you. They use the very best product specially made to be used for cleaning up your bike
Service Recommendations and Delivery
Please call our Service Department at (815) 332-7125 to schedule your service work.
Need Help?
Call our service department at (815) 332-7125.